Can You Drink Diet Soda While Intermittent Fasting?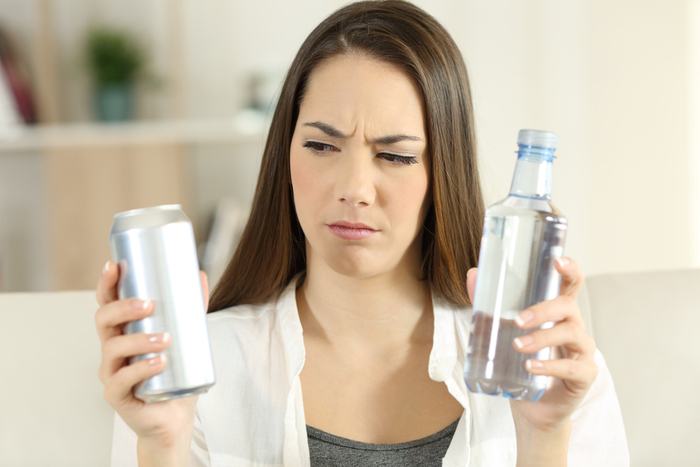 Drinking diet soda is something that many Americans struggle with. It's an addictive drink that provides a small amount of energy and is marketed as the healthy alternative to everyone's favorite sugary beverage. Diet soda tastes great and offers none of the drawbacks of regular soda, right? Unfortunately, that school of thought might not necessarily be true.
But is it at least okay to drink diet soda while intermittent fasting? Many diet sodas are low in sugar, have 0 calories, and offer healthier ingredients than their regular counterparts. Again, that, unfortunately, doesn't make them the healthy alternative. Drinking diet soda impacts your body in different ways that can make intermittent fasting nearly impossible.
Let's take a look at what makes diet soda so difficult for your body to process and why it shouldn't be part of your intermittent fasting menu.
"Diet" Soda
While it's true that some diet sodas have zero sugar and zero calories, it's also true that diet sodas are packed with artificial sweeteners which have been tied to obstructing weight loss. Sweeteners like aspartame could even cause weight gain which is certainly not what you want if you're intermittent fasting. Don't make the weight loss process harder on yourself with diet sodas.
But how do they compare to regular sodas when it comes to weight loss? This is a debate of calories versus artificial substances and how they impact the body. Diet soda might not have any calories, but calories aren't the only things that lead to weight gain. So as unfortunate as it is, cutting both regular and diet sodas is one of the fastest ways to lose weight along with intermittent fasting.
Drinking While Fasting
Let's take a look at what happens to your body when you drink a diet soda while intermittent fasting. For starters, diet soda will break your fast pretty quickly. One of the most popular determining factors for fast-breaking is the 50 calorie threshold – if you have more than 50 calories, then your fast is broken. But, as we've mentioned, calories aren't the only fast breakers.
Insulin production is another major factor in breaking your fast as many supplements are designed to trigger production and break a fast. The artificial sweeteners can quickly activate insulin production which leads to your fast-breaking. Diet sodas might even be more effective at fast-breaking than their regular counterparts.
If you're looking to avoid breaking your fast and assisting your body in quick weight loss, then diet soda should be cut from the menu. It's quite effective at promoting weight gain which essentially makes it an obstacle for intermittent fasting.
Popular Alternatives For Intermittent Fasters
We all have that sweet tooth that regular water simply cannot calm, that's why so many of us are soda and diet soda drinkers. But, it's just not an acceptable intermittent fasting drink for our bodies. It negates the benefits of intermittent fasting and makes weight loss much more difficult. Luckily, there are some alternatives to diet sodas that aren't water!
If you're looking for that blast of flavor throughout your fast that water can't provide, then you're in luck. Intermittent fasters can enjoy teas, coffee, and even a splash of lemon in their water. While it is a far cry from soda and its sweet flavoring, these healthy alternatives will be just what your body needs to make it through the fasting window.
Plain tea and coffee provide many of the nutrients our bodies need while helping to distract our brains from hunger and cravings. They're the perfect bridge between the fasting period and eating. Once your eating window returns, you can have diet sodas again, but be sure to limit the amount you're drinking.
Don't forget to check our recommended intermittent fasting apps to make your intermittent fasting journey easier.