Intermittent Fasting Side Effects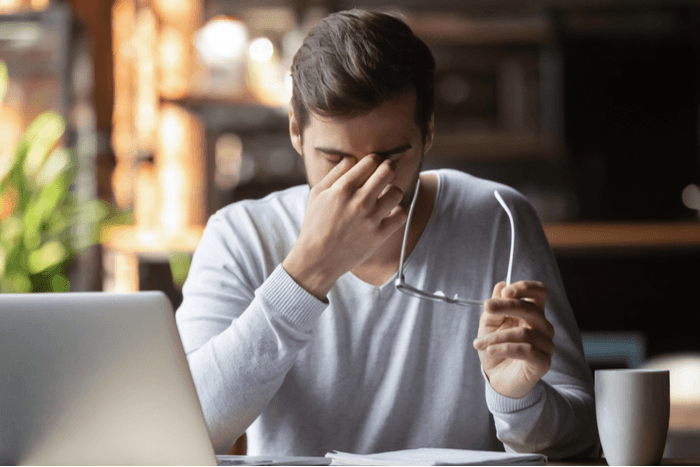 As with all good things, too much of it can be a bad thing. Intermittent fasting is no exception to this rule. If you fast for too long or too often, your body is bound to experience some negative side effects. These side effects can be as minute as stomach cramps or as drastic as severe malnutrition.
If you're not careful, you could quickly find yourself struggling with headaches or dehydration if you over-fast. Intermittent fasting offers tons of incredible benefits to the body and is a fantastic weight-loss tool to have in your arsenal, but again, too much of a good thing quickly becomes a bad thing.
Let's take a look at some of the negative side effects that your body is at risk of when intermittent fasting. These issues are dependent on many factors aligning and won't be an issue if you take care of yourself whilst fasting. If you have certain preexisting diseases, are pregnant, or have a history of eating disorders, then you may be at a higher risk of experiencing these side effects.
Talk to your primary care physician if you have any concerns about intermittent fasting.
Cravings Stick Around
One of the first side effects of intermittent fasting that you may experience is cravings. This is one of the smaller issues, but it's one that can directly impact your ability to fast. Sometimes cravings and hunger can unite to create a powerful team that derails your intermittent fast.
When you want that bag of chips late at night, it takes a strong mind to tell yourself no. These side effects are quite common and vary based on the type of intermittent fasting you're trying. Hunger can be a tough obstacle to overcome, but at least you're not alone in this intermittent fasting side effect.
Mental Wellness Decreases
I'm sure at one point or another in our lives, we've experienced hunger anger. Being "hangry" is a normal thing that affects everyone – intermittent fasting or not. However, when intermittent fasting, your risk of getting hangry can greatly increase.
Many who intermittent fast have reported worse episodes of hanger, and more frequent bouts of it. Your body tends to react poorly to being malnourished and often times mistakes lower caloric intake as being malnourished.
Other side effects of intermittent fasting include fatigue throughout the day and generally low energy. Depression is another mental illness that could be emboldened by intermittent fasting.
Trouble Sleeping
While you may be fatigued throughout the day, intermittent fasting could cause difficulty sleeping. Besides hunger and cravings, difficulty getting to sleep and staying asleep is one of the most common side effects of intermittent fasting.
While it is a common side effect, it isn't guaranteed that you'll experience difficulty sleeping. Some people who are dedicated intermittent fasters have reported better sleep when starting and throughout the process.
Dehydration or Malnutrition
Not all of the side effects of intermittent fasting are as simple as lifestyle changes. Some can be quite dangerous if not taken care of properly. If you begin to show signs of dehydration or malnutrition, then perhaps you should decrease the amount of fasting you do.
Dehydration and malnutrition can be signs that your body isn't getting the nutrients it needs to operate throughout the day. Whether this is because you're fasting too much or you're not eating the right foods once you break your fast, dehydration and malnutrition can be dangerous.
Avoid Intermittent Fasting if You…
Some people are more prone to these negative side effects than others. You should avoid intermittent fasting if you:
Are pregnant
Are a young child or teen
Are prone to eating disorders
Are subject to preexisting conditions like diabetes
There are many more factors that could cause these negative intermittent fasting side effects. We recommend checking with your doctor before starting intermittent fasting.
If you are planning to start intermittent fasting and want to make everything a lot simpler, we would like to recommend you to check out this list for the best intermittent fasting apps available in the market.