What To Eat After Intermittent Fasting?
Medically reviewed and fact checked by our team.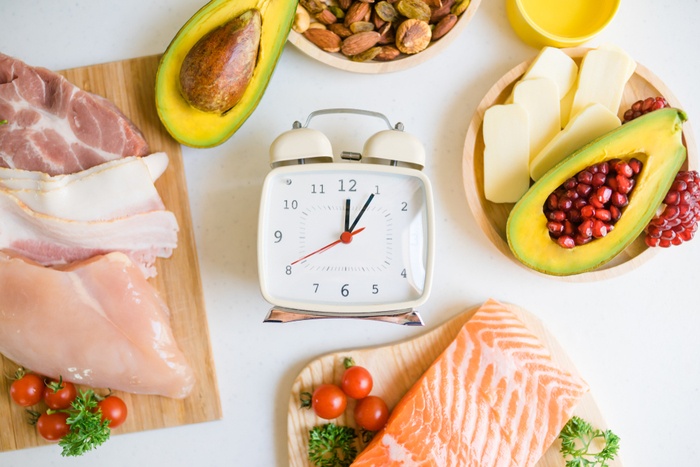 One of the most important parts of intermittent fasting is the transitional period. The moment when your fast ends and your window of eating opens will be quite decisive in how your body functions throughout the day. So what is the best food to eat right after your intermittent fasting period comes to a close for the day?
It can be quite tempting to stuff yourself with food to make up for the hours of fasting. You might also experience a loss in appetite causing you to extend your fast until you feel hungry. It's important to start your day off with something gentle and to get the right amount of food into your body to break your fast. Let's take a look at the best foods to eat after intermittent fasting.
Easing Your Way Into Eating
The period of eating throughout the day should be worked up towards – don't just go straight into a meal to break your fast. Many experts recommend starting off with a low-calorie drink to wake the system up. Depending on the drink, this could be had before your eating window opens up as some drinks are acceptable while fasting.
Drinks like tea, coffee, and lemon water are all great ways to ease your body into your period of eating. They each provide a small number of nutrients that can help awaken your system and get you through the remainder of your fasting period. They don't have enough calories to break your fast but can help sustain or even wake your system up.
Keep it Gentle on Your Stomach
Directly after your fasting time ends, you should stick to gentle foods that won't shock your system when introduced. It can be tempting to have a whole meal with as many nutrients as possible to make up for the lost time, but then all progress made while fasting is out the window. Keep it gentle so that you provide your stomach plenty of time to ease back into eating.
Some of the best foods are breakfast foods – there's a reason why they're had during "breakfast". Foods like yogurt, eggs, and fruits will help to wake up your system without startling it. They're gentle foods that are easier to digest so that you don't experience bloating or cramps right after your fasting window ends. Smoothies, soups, and vegetables are also fantastic foods to break your fast.
Certain Supplements Can Help
You can also wake your system up with certain supplements like protein powder or gummies. These are both supplements that offer certain ingredients which help in breaking your fast. Gummy multivitamins have sugars, proteins, and fats which can help break your fast and alert your system. The same is true with protein powders. Having some supplements could be a great way to start your eating window off – they wake your system up before you start introducing foods.
Don't Over Eat
When you first enter your eating phase, you could be tempted to stuff yourself with food. Depending on your intermittent fasting plan, you could have been fasting for as long as a whole day which will leave you pretty tired and hungry. However, if you overeat throughout your window of eating, you could find yourself bloated, cramped, and in a worse spot than when you started intermittent fasting.
Keep it simple and stick to a structured diet. Intermittent fasting only works as long as you're willing to take care of your body, so don't stuff it with unhealthy foods and expect the fasting to take care of everything. Eat a balanced diet and limit the amount you eat throughout the day.
If you are planning to start intermittent fasting, we would like to recommend everyone to get intermittent fasting app. It will make everything a lot simpler and you will know for sure that you are doing everything right.