32 Tasty And Healthy High Protein Foods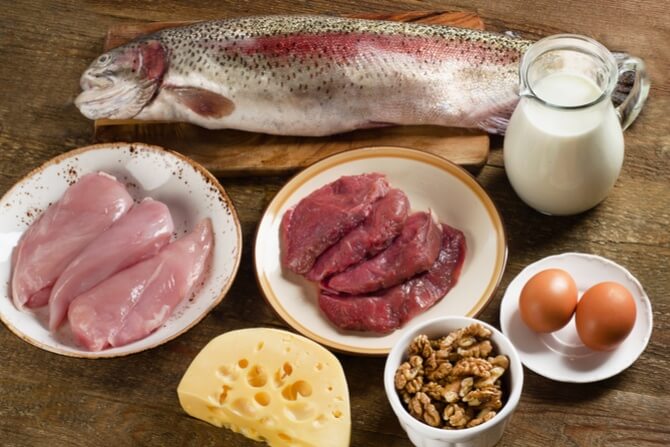 Let's face it: not everyone is crazy about protein shakes. In fact, the protein shake movement has taken the health and fitness world by storm. It seems like every weight loss plan features meal supplements with shakes and smoothies to help you get the extra protein you need for lean muscle mass. There has to be a better way.
Luckily, mother nature has created foods that are not only high in protein, but delicious and filling as well.
Key Takeaways
There are plenty of delicious and healthy high protein foods available beyond protein shakes and supplements, including spirulina, soy nuts, Greek yogurt, cottage cheese, eggs, soy milk, chicken breast, turkey breast, yellowfin tuna, octopus, anchovies, lentils, and navy beans.
These high protein foods can help build and repair lean muscle mass, while also offering other important nutrients and health benefits.
High protein foods can be incorporated into a variety of meals and snacks, making it easy to meet daily protein needs without relying on supplements.
When choosing high protein foods, it is important to opt for all-natural and organic brands and to be mindful of portion sizes and cooking methods to maintain a balanced and healthy diet.
Here is a list of some of the most delicious high protein foods that are tasty and incredibly healthy as well!
Spirulina (58g per 100g) This superfood tops our list because it seems like a miracle in terms of protein. Half of every cup of this dried seaweed like algae is the ultimate source of nutritious protein that builds and repairs lean muscle. The rest of the spirulina is packed with nutrients that can reduce allergy symptoms and prevent serious illness.
Soy Nuts (40 g per 100 g) Soy nuts, or edamame dried and roasted, is a perfect healthy protein snack. A handful of these nuts can offer a whopping 40g of protein! Packaged soy nuts are also available on the market in several delicious, inventive flavors. When choosing your soy nuts, be sure to stick with all natural and organic brands.
Greek Yogurt (23g per 8 oz) Greek yogurt is the creamy, sturdier cousin of regular yogurt. It is made by reducing the water in regular yogurt, resulting in yogurt that is more dense in protein and nutrients. Plain, organic Greek yogurt is also healthy because it has very low glycemic index. The protein and nutrients in Greek yogurt are digested slowly, preventing dips and spikes in blood sugar levels. For a great midday snack, mix your Greek yogurt with your favorite fruit or sprinkle some protein-packed chia seeds and honey on top.
Cottage Cheese (14g per 4 oz) Cottage cheese has long been one of America's favorite foods. This curd-filled treat is packed with milk protein casein. Casein is a rapidly absorbed protein that is easily digestible. It is a perfect addition to a light meal because it can be eaten with savory foods as well as sweet. Drizzle balsamic vinegar and pine nuts on top for a Mediterranean feel, or top it with a fruit salad medley for a healthy, protein-packed dessert.
Eggs (about 6g per egg) The incredible edible egg has been labeled a superfood for several decades. Its yolk is filled with vitamins and minerals: the white of the egg is nearly all protein and essential amino acids. And the best part about this food is that it can literally be prepared hundreds of ways. Whether you like your eggs scrambled, hard-boiled, or poached, you are getting the incredible benefits of this high protein food.
Soy Milk (8g per cup) People with dairy allergies can rejoice! Soy milk is not just a non-dairy alternative to milk, but a protein packed drink that can be used in baking, meal preparation, and even in breakfast cereal! Soy milk has more protein than milk: it has several essential vitamins that make it a no-brainer in terms of healthy protein foods. Soy milk goes great in cereals, granola, and even in your morning coffee. And as a bonus, soy milk has less sugar than cow's milk, making it a perfect choice for people trying to get their protein without racking up extra carbs. Just remember to choose brands of soymilk that are 'unsweetened'.
Chicken Breast (24 g per 3 oz) Chicken breast has been the staple protein of bodybuilders since the eighties because it is incredibly delicious and delivers more protein than all of the cuts of poultry. The skinned chicken breast is also incredibly low in fat, so it fits perfectly with a low fat diet. Chicken can be prepared literally thousands of ways, but broiled, baked, and barbequed are the best low-fat cooking preparations.
Turkey Breast (24g per 3oz) If you have finally run out of ways to prepare your chicken breast, then turkey breast is a great alternative. Ground into turkey burgers or roasted in the oven, turkey has a great flavor and tons of protein. Just watch out for the tryptophan content in turkey; this is the chemical in the traditional thanksgiving meat that makes us feel sleepy and relaxed.
Yellowfin Tuna (25g per 3 oz) Sushi-grade yellowfin tuna is one of the most protein-dense fish swimming the seas. When served raw with seaweed and white rice, the yellowfin tuna is nearly fat free.
Octopus (25g per 3 oz) Octopus is quickly gaining popularity and today it's more accessible in your local seafood market than ever. It is an essential ingredient in many Italian pasta dishes, which is often served with red sauce.
Anchovies (24g per 3oz) These tiny little fish may be small, but they pack a mighty protein punch! Each serving of the fish offers 24 grams of protein. They are very strong in flavor, so toss some into a pasta sauce or on top of a whole wheat pizza.
Lentils (13g per serving) These beans are not only rich in fiber and vitamins, but they offer a good helping of protein too. You can purchase lentils dried and soak them overnight before cooking. They make a fantastic addition to winter soups and yet are the main ingredient in light summer bean salads.
Navy Beans (20g per serving) Navy beans have been a staple in soups and stews for years because they are hearty, filling, and provide tons of protein and flavor! Mashed Navy beans also make a great hummus alternative! Simply add drained navy beans, lemon juice, cumin, and other seasonings to taste and blend in a food processor until smooth. Serve with cucumber slices or crackers for dipping.
Roast Beef (18g per 3 oz) Sliced roast beef is the best of both worlds: the meat is rich in protein and good enough for dinner. It is sliced so thin that it can be added to sandwiches for a great lunchtime meal. Roast Beef also has high levels of B vitamins and essential amino acids that the body needs.
Peanut Butter (8g per serving) Peanut butter is a universally loved nut butter. It can be found in lunch-boxes, in cookies and other confectionaries, and spread as a topping on other foods all around the world! For a healthier snack, skip the bread and spread peanut butter on celery, apples, or bananas instead.
Tofu (12g per 3oz) Tofu has gotten a bad reputation lately, but in reality it is a great high protein food. The key to enjoying tofu is in how it is prepared. With the right preparation, tofu can be very delicious! It can be cubed and added to soups or grilled and seasoned just like meat.
Edamame (8p per serving) Edamame is considered a superfood because it is incredibly rich in antioxidants and vitamins. It is also source of a whopping 8 grams of protein per serving. That's more than eggs! Steamed and seasoned, this pod vegetable makes a great appetizer or sometimes snack.
Green Peas (7g per serving) Green peas are often overlooked when it comes to protein. These tiny green pod vegetables contain a startling 7 grams per serving! They are great in soups, and often stir-friend, and steamed as a dinner side-dish.
Wheat Germ (6g per ounce) If you're looking for protein-packed punch of vital nutrients nothing beats Wheat Germ. It is part of the germ ( which in other words stand as "germination") that sprouts and over time, grows into a new plant.
Soba Noodles (12g per 3oz) These traditional Japanese noodles are not just great for slurping; a single serving of soba noodles contain 12 grams of protein per serving. These noodles can be enjoyed cold with veggies or stir fried with lean meats and other ingredients. It's just another reason to help yourself to a healthy plate of Japanese cuisine!
Quinoa (8g per 1 cup) This South American grain is unique because unlike other starchy sides, quinoa contains 8 grams of protein in each cup. Even better, it contains all of the essential amino acids which are required for muscle development and repair. Mix it with roasted veggies or top it with dried cranberries and goat cheese. No matter how you prepare it, quinoa is not only tasty and healthy, but also packed with protein that you need for strong muscles.
Almonds (6g per ounce) Almonds are a great healthy snack. They provide everything you need to get through a good midday slump: energy, fiber for fullness, and protein. People who eat almonds and other woody nuts are immune to the risk for heart disease and other metabolic diseases. Just make sure that you avoid the sugared, over seasoned, or roasted varieties when purchasing your almonds. Raw, unflavored almonds are the best choice because the roasting and seasoning process robs nuts of their nutrients.
Broccoli (3g per cup) There are many reasons why your parents insist that you eat broccoli. One of them is that broccoli has a surprising amount of protein in each serving. It is important that the broccoli be cooked as little as possible because the protein and other nutrients present in it denature when cooked. Lightly steam or sauté your broccoli for a delicious protein-filled side dish, or toss with olive oil and whole wheat pasta for a succulent main dish.
Ezekiel Bread (4g per slice) This bread differs from other breads because it is made with live sprouted grains. It also has 4 grams of protein in every single slice.
Pumpkin Seeds (5g per ounce) Pumpkin seeds roasted and salted are a great snack or salad topping. Just one handful sprinkled on pasta can add tons of extra protein to your dish. You can also make your own healthy trail mix including pumpkin seeds and other nuts and dried fruits.
Shrimp (18g per 3 oz) Shrimp are not only high in protein, they are also virtually fat free! And there is a shrimp dish to match anyone's tastes.
Guava (4g per cup) This fruit is not also known for it's protein content, but it is actually very high in protein and amino acids. Fresh cut guava is great for breakfast or as a midday snack.
Hemp Seeds (6g per tablespoon) The seeds of the hemp plant have been considered taboo because of their association to the leafier, less legal buds that sprout from them. Don't be fooled, hemp seeds are not only legal but they are healthy and delicious.
Goat Cheese (5g per ounce) Goat cheese is soft, creamy, tangy and filled with protein. Toss some goat cheese in a walnut salad for some flavor or eat it on whole wheat crackers.
Chick peas (11g per cup) Chick peas are packed with 11 grams of protein. This bean is the main ingredient in hummus, so feel free to help yourself to some hummus and celery or crackers when you need a healthy, high protein snack.
Artichoke (4.2g per artichoke) Another veggie that is overlooked in the protein department, artichokes contain almost 5 grams of protein in each artichoke. Serve steamed and with butter or aioli for some healthy fats to accompany the protein, fiber, and nutrients in your artichoke.
Chia Seeds (5g per ounce) Last but not least, this superfood is used for tons of reasons. It helps aid digestion, blood detoxification, and helps ward off seasonal illness on top of its high protein content. Chia seeds are best sprinkled on salads or yogurt. You can also stir a tablespoon on chia seeds into your favorite fruit juice for a quick protein blast.
FAQ
What are some high-protein foods that are also low in calories?
Some examples include lean meats like chicken and turkey, seafood such as shrimp and tuna, legumes like lentils and chickpeas, and low-fat dairy products like Greek yogurt.
Can vegetarians and vegans still get enough protein in their diets?
Yes, there are plenty of plant-based protein sources such as tofu, tempeh, quinoa, and beans. It's important to consume a variety of these sources to ensure adequate protein intake.
What are some high-protein snacks I can have on the go?
Some easy high-protein snacks include hard-boiled eggs, beef jerky, Greek yogurt, protein bars, and roasted chickpeas.
How much protein do I need to consume per day?
The recommended daily protein intake varies depending on factors such as age, sex, and activity level. As a general guideline, the average sedentary adult should aim for at least 0.8 grams of protein per kilogram of body weight per day.
Can I consume too much protein?
Yes, consuming excessive protein can have negative health effects, such as kidney damage and dehydration. It's important to follow the recommended daily intake and consume a balanced diet.