IMPORTANCE OF WHEY PROTEIN POWDER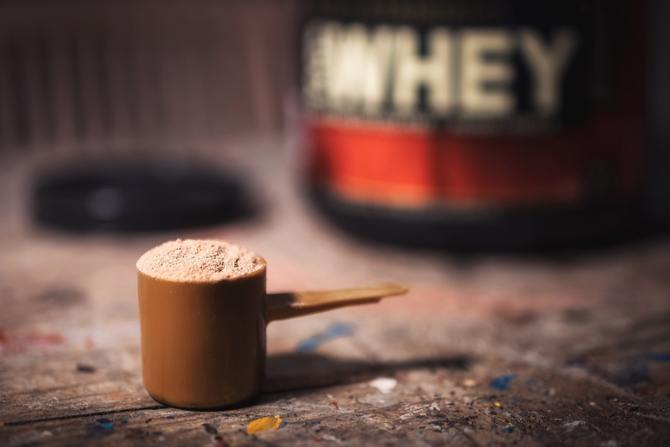 The supplement industry generates billions of dollars a year worldwide, and protein powders take the lion's share. There are literally thousands of brands of protein supplement in the market today, each one of them has its own special formula designed to maximize the benefit that you receive from your protein powder in different ways. To understand better this article, we recommend first reading what is protein and what does protein do guides.
It can be overwhelming, and often-times very confusing trying to pick a protein powder for yourself if you are not familiar with the terminology and all of the types of protein that you can choose from. In fact, often times people are unsure of which kind of protein to buy because they have so many options and not enough information upon which to decide.
Based on popularity alone, whey protein is the best form of protein available in the supplement aisle.
Whey protein is derived from the milk of cows, and it is the most widely used because not only is it relatively inexpensive to produce, but also it is a high quality protein that can produce maximum benefits  with relatively little side effects or allergy & directions.
For the past 20 years, whey protein has been held as the highest standard in protein supplements. But what exactly is whey and what can it do for you?
Key Takeaways
Whey protein is a highly beneficial protein supplement that can promote muscle growth and recovery due to its abundance of essential branched-chain amino acids (BCAAs), including leucine and cysteine.
Whey protein powder is a rapidly digestible nutrient, making it an ideal choice for both pre and post-workout nutrition. Consuming whey protein at the right time can significantly enhance energy, endurance, and muscle development.
There are many different formulas of whey protein powder available on the market today, each with its own unique blend of enzymes, minerals, and vitamins. Whey concentrate is an inexpensive and potent choice for first-time users, while hydrolyzed whey is the most rapidly absorbed form of whey protein and is ideal for athletes.
Whey protein can be added to foods or blended into smoothies and other drinks, making it an easy and convenient way to add high-quality protein to your diet.
While whey protein is generally safe and well-tolerated, it is important to consult a healthcare professional before adding any new supplements to your diet, especially if you have any medical conditions or allergies.
All About Whey Protein Powder
Whey protein is a globular protein that is used in protein supplements and powders the world over, but it hasn't always enjoyed this distinction. In fact, it's awesome properties as a protein supplement were only recently discovered by the dairy industry.
Whey is one of two proteins that is found in the milk of cows. Cow milk is composed of both casein protein and whey protein, but in extremely unequal amounts. Milk is nearly 80% casein protein and only 20% whey.
Whey was first discovered when dairies began making cheese. The watery, low-fat whey protein would separate from the forming fatty cheese curds and rise to the surface only to be strained off the top.
The whey residues were simply thrown out because they had no flavor, but some industrious individual realized that this cheese byproduct could actually be used as a pure and potent protein source.
The liquid whey is processed to isolate the protein in a powdered form and the result is whey protein powder that can be added to foods or more importantly blended into smoothies and other drinks for a fast-acting protein boost.
Whey went from being a waste product to a highly profitable nutritional ingredient nearly overnight!
Whey and BCAAs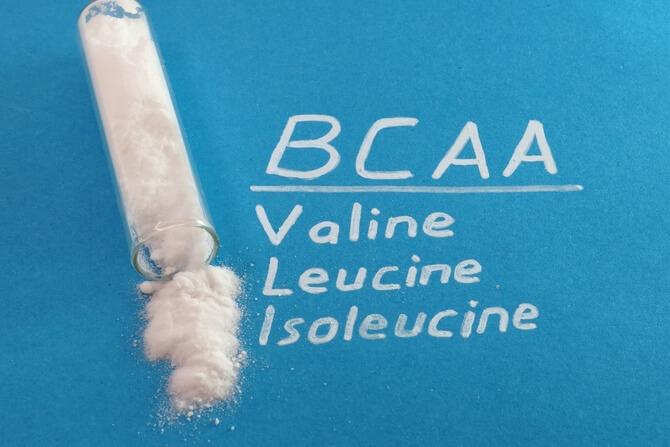 What makes Whey protein so special?
Like all protein, whey is comprised of a chain of amino acids. Whey is special because it is abundant in two essential 'branched chain' amino acids: leucine and cysteine. These BCAAs are incredibly vital to cell growth and repair.
The BCAA Leucine is important for anyone who is physically active because it stimulates new tissue development. Anyone who is interested in bulking up can tell you that new tissue development is their unfolded goal?
Cysteine has been scientifically linked to the presence of cellular antioxidants, which reduce inflammation and promote healing. In essence, whey helps you build muscle and recover faster than protein consumed in regular food.
Whey protein is so beneficial to growth in humans that it makes up over sixty percent of the protein found in human breast milk. Fast growing babies need the most potent and rapidly digestible nutrients to double and triple in size in such short amounts of time, so whey was nature's choice to help them grow.
What are the benefits of whey protein powder?
We've seen that whey contains essential BCAAs and promotes muscle growth, but that is not the only reason that fitness enthusiasts consider whey protein to be the gold standard in protein supplements. Whey is consisted a cut above other animal  and plant-based proteins because it can be rapidly digested, allowing for a nearly instant boost of essential proteins when you need them.
This makes whey the perfect choice before or after a workout.
Sports science has long been interested in finding the best methods of eating, sleeping, and working out that will produce the fastest results. Studies have shown that a well proportioned meal before a workout can boost energy and endurance, allowing for better performance.
After a workout, having some protein and carbohydrates in the form of a light snack or a protein drink can drastically cut recovery time and enhance muscle development.
The key is timing for both pre and post workout nutrition.
You want the protein to be digested and in your bloodstream at the right time, and since whey is a rapidly absorbed nutrient you can eliminate the guess work as to when it should be consumed.
This ease of use makes it the ideal nutrient for your workout.
So now that you see the benefit of adding potent whey protein supplements to your fitness regimen, its time to discuss which formula is going to best suit your needs.
Which whey should I use? The best whey powder formulas and what they do.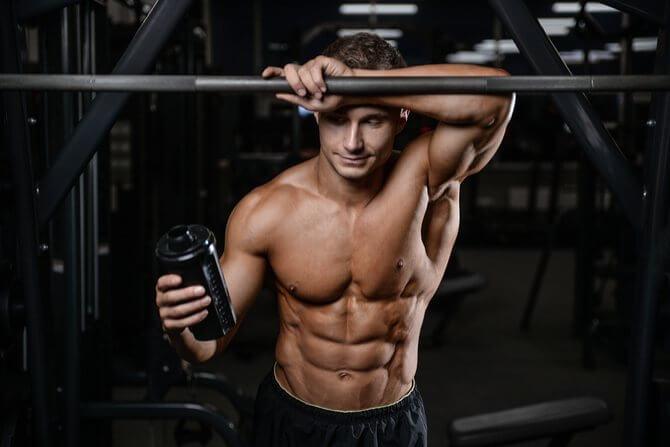 There are many different formulas for whey protein powder because there is more to the supplement than the protein. Many contain enzymes, minerals, and vitamins, all proven to help with digestion and other nutritional benefits.
Here are the best whey formulas available on the market today and what sets them apart from the rest:
Whey concentrate: Whey concentrate is the pure reduction of liquid whey. This protein is the preferred choice for first time protein users with no dietary restrictions because it is inexpensive and still incredibly potent. Containing trace elements of other milk proteins and carbohydrates, this protein makes a great meal replacement as well as pre or post workout supplement. Whey protein concentrate is by far the most abundant form of whey on the shelves, so it can be found whatever protein powder is sold. The setback to using this protein is that some individuals experience some bloating or gassiness after consuming whey concentrate. If this is the case for you, whey isolate may be your best option.
Whey Isolate: Whey Isolate is a more refined whey than the concentrate form, and so it tends to be more expensive than the concentrate . It is filtered extensively so that it is free of nearly all other milk elements. Whey Isolate is lactose-free, sugar free, and low in carbohydrates. This is great for people with milk allergies. Individuals who want to maintain a low-carb diet love whey isolate as their protein supplement. It is also has the second fastest absorption rate of all of the whey formulas available. The most rapidly absorbed formula of whey on the market is the hyper potent hydrolyzed whey.
Whey Hydrolyzed: this protein powder has an unparalleled absorption rate. This expensive supplement is worth every penny; the whey is pre-digested and designed to be easy on the digestive system with no unpleasant side-effects. The rapid absorption has a significant anabolic effect on your muscles and can greatly enhance performance.
When choosing your protein supplement, make sure you also know how much protein the powder contains power serving. It is important to get the proper amount of protein workout overdosing on the nutrient as it can negate the positive effects of whey.
Whey protein shakes and your fitness goals
For a long time it was believed that protein powders and shakes were not for everyone. Fitness and nutrition experts prescribed protein for their muscle and weight gain clients, and completely avoided protein supplements for women. Many of them neglected to realize that protein can benefit anyone with goals to accomplish in the gym. Whether you are male or female, want to reduce your body fat percentage, lose an extreme amount of weight, or take the next step into becoming an elite athlete, protein supplements can help you meet your goals quickly and safely.
Here we are going to touch on various popular fitness goals and how whey protein can be a vital piece of the fitness puzzle.
Gaining Muscle Mass: the most common fitness foam associated with protein supplements is muscle gain. This is because building big muscles requires additional protein intake to accomplish. The whey provides the abundance of growing muscles need to reach a desirable size and shape. Because of the fast acting properties of the whey protein, muscle builders can take a protein shake and receive the benefits of whey within minutes, which is ideal before or after a long resistance training session.
Power and Speed: Building big muscles is easy; building muscles that are fast and long lasting is quite a bit more difficult. Power and endurance training is far more involved than just pumping iron. It requires specialized training such as weighted sprints and jump training. It also requires special nutritional consideration. The most important part of a power and speed nutritional plan is making sure your body has more than enough energy available for use and to constantly replenish lost energy stores. This is where whey protein comes into play. As a post workout protein drink, whey can enter the bloodstream quickly, providing muscles with immediate energy replenishment for recovery.
Extreme Weight Loss: People with one hundred pounds or more to lose are rapidly realizing that protein supplements are not only helpful, but absolutely necessary to stay healthy during an extreme body transition like drastic weight loss. Weight loss for these individuals is both simple and incredibly hard. It is easy to drop weight in the initial phase of extreme weight loss. Without excessive over eating, hundreds of extra pounds can't survive the rigors of exercise. Before long, with the right nutrition and exerciser, pounds begin to melt away! The problem is that many people don't realize that when you lose hundreds of pounds you aren't just shedding fat.
People who lose weight also lose muscle mass from a combination of increased activity and a severe reduction of calories. This means that without the proper amount of protein and other nutrients, weight losers will experience negative side effects of weight loss. Adding protein powder in smoothies and meal replacements ensures that individuals losing extreme amounts of weight will get high quality nutrition, despite the calorie restrictions that weight loss requires.
Dropping Fat: Individuals that are not considered obese but who desire to decrease their body fat are also going to benefit from the use of whey protein in their fitness plan. Whey protein can be a low calorie meal replacement that is packed with nutrients beneficial for building the lean muscle needed to burn off excess fat stores in the body.
Many individuals who seek to drop fat are women, and traditional (outdated) information has always been that women who take protein supplements will bulk up. In reality nothing could be further from the truth. Protein powder can help reduce caloric intake without sacrificing nutrients, and therefore help women lose weight in the form of body fat much quicker than by dieting alone.
Now that you understand that protein supplements benefit just about everyone that walks through the gym doors, here are some amazing smoothie recipes to get you started on integrating protein powder in your daily diet.
Five delicious whey protein smoothie shake recipes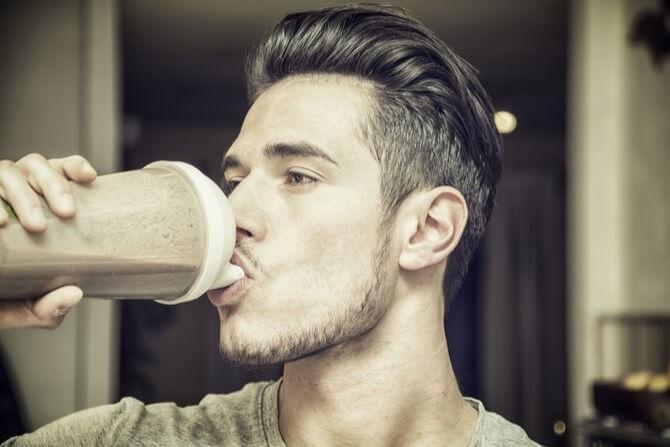 Because whey protein is tasteless and unappetizing in its natural form, flavor is added to make protein drinks more palatable. The problem lies in drinking the same chocolate, vanilla, or strawberry flavored drink everyday without getting bored with it.
Professional athletes and gym goers mix it up by creating smoothies (blended drinks) with their protein powder.
Here are a last if since of our favorite protein smoothie recipes and why we love them!
Note: these recipes will all require a blender, as well as different pre-flavored protein powder. Before you make each these recipes, be sure to plan ahead so you have the necessary ingredients and tools handy.
Mocha Protein Shake: This delicious concoction found on DailyBurn.com combines is number one on our list because it combines our two favorite things: protein shakes and coffee. Caffeine is a natural stimulant found in coffee that has been shown to have beneficial effects on energy and performance levels during a workout. Pre-workout energy enhancing supplements rely primarily on caffeine as their main ingredient. Now you can create your very own pre-workout supplement that is tastier and more beneficial than any bottled product. Ingredients include chocolate protein powder, butterscotch pudding mix and cold pressed coffee.
Orange Creamsicle: Who didn't like a good Orange Creamsicle as a kid? This shake makes the cut because it is simple as well as delicious. Orange juice provides you with enormous amounts of vitamin C and other minerals and vitamins to help boost your energy and prevent illness such as the common cold. Vanilla protein plus orange juice is not only rich in vitamins and nutrients, it reminds us of the hot summer days as a kid and those dreamy ice cream orange bars that we all clamored for! This shake has very few ingredients and is a great smoothie recipe for first time smoothie makers. Be sure to use organic, fresh squeezed orange juice low on pulp to get the added benefit of being extra nutrient-rich and tasty!
Peanut Butter Banana Shake: The peanut butter banana combination is a great way to add flavor to your meal replacement shake. A little sweet and salty, this shake combines the healthy fats and peanuts and almonds with the nutrients in your protein powder so that you can feel fuller longer. This recipe is a bit more involved, requiring honey, almonds, and bananas aside from the powder and peanut butter, but still takes less than five minutes to prepare and enjoy! Make sure you finely chop all ingredients to ensure that the protein smoothie consistency is smooth and creamy. Click on the link for the recipe .pdf from Bodybuilding.com.
Very Berry Super Shake: This smoothie is absolutely packed with antioxidants, protein, vitamins, and fiber. It is the best of all worlds! The nutritionists at Men's Health Magazine created this meal replacement smoothie by bringing together berries, spinach, and whey protein for a sweet and filling smoothie that clocks in at about 60g of protein and 500 calories per serving. This may seem like a high amount of calories, but this will ensure that your meal replacement smoothie will leave you satisfied for hours, all while fighting inflammation and other chronic disease. Did we mention it's delicious? Don't forget to grab walnuts and flax seed before trying this recipe out for yourself! You can find more details on the recipe by clicking the link above.
Key Lime Pie Smoothie: By far the most ambitious recipe on this list, the pay off is certainly worth trying the recipe out. For key lime pie lovers, this smoothie recipe is going to hit all of the sweet spots! It is also significantly lower in sugar and fat while being high in protein and other good-for-you nutrients, making it extremely diet-friendly. You may be slightly scared away by the recipe list, but we guarantee that the cottage cheese will add nutritional value and creamy consistency to the smoothie. There are also some substitutions you can make if you have dairy allergies or intolerance. Try switching soft tofu for cottage cheese if you can't have dairy, or lose the additional sweeteners like xantham gum for less calories and added sugars. Check out the full recipe at DashingDish.com by clicking the link above.
No matter which recipes you try, make sure you user high quality pharmaceutical-grade protein powder that meets your protein needs. But what about ask of the other ingredients on that overwhelming nutritional label? Let's talky about things you should look for on the labels.
Reading The Labels: Things to look for in your next protein powder
Protein powder is designed to provide you with not only protein, but other nutrients and supplements to assist you in your fitness goal. Good right? But there can be an issue in c consuming such high quantities of certain minerals and supplements. This is because most individuals already include these compounds in their daily diet. To avoid mineral toxicity or other complications, it is important to check your labels for three the important things:
Vitamins: many protein powders will contain more than the daily requirement of essential vitamins like the B vitamin complex, vitamin C, and vitamin E. This is because all of these vitamins enhance the potency of the protein in the powder. However, this may mean that you skip your daily multivitamin on days that you have a protein shake to avoid vitamin overdose. Consuming high levels of vitamins can lead to vitamin toxicity, which can harm your kidneys and liver.
Caffeine: an extra boost of energy before or after a workout is the reason that powder manufacturers include coffee extract and other caffeine sources in their products. This is ok unless you are a devoted coffee drinker. Too much caffeine can have adverse effects on your heart and brain. Make sure you check your daily caffeine intake before stocking up on caffeine packed protein powders.
Minerals: iron and other minerals are vital to anyone in a fitness program. As we sweat, our bodies leach life-sustaining minerals that we have to replace to remain healthy. These protein powders have added iron for that reason and to help encourage muscle growth gand blood circulation, but If you take a daily iron supplement you may want to find a protein powder that does not have any additional iron added. This will prevent you from consuming an abnormally high amount of iron and damaging your kidneys.
FAQ
What are the benefits of whey protein powder?
Whey protein powder has several potential benefits, including helping to build and repair muscle, promoting weight loss, reducing hunger, boosting immune function, and improving overall health.
How much whey protein powder should I take?
The amount of whey protein powder you should take depends on your needs and goals. In general, it is recommended to consume 20-30 grams of whey protein powder per serving, up to three times per day.
Is whey protein powder safe?
Whey protein powder is generally safe for most people when consumed in moderation. However, some people may experience digestive issues, such as bloating or gas, if they consume too much whey protein powder.
Can I use whey protein powder as a meal replacement?
While whey protein powder can be a convenient and nutritious addition to a meal, it is not recommended to use it as a complete meal replacement regularly. It is important to consume a balanced diet that includes a variety of whole foods.
Can I consume whey protein powder if I am lactose intolerant?
Whey protein powder is generally low in lactose and may be well tolerated by people with lactose intolerance. However, if you have severe lactose intolerance, it is recommended to choose a whey protein isolate, which has a higher protein content and lower lactose content than whey protein concentrate.
When is the best time to consume whey protein powder?
The best time to consume whey protein powder depends on your individual goals and preferences. For example, some people prefer to consume it before or after a workout to help with muscle recovery and growth, while others may use it as a snack or meal replacement throughout the day.
Are there any side effects of consuming whey protein powder?
While whey protein powder is generally safe for most people, some may experience side effects such as digestive issues or allergic reactions. It is important to talk to your doctor before starting any new supplement regimen, especially if you have any underlying health conditions or are taking medications.