TOP 10 PRE WORKOUT SUPPLEMENTS FOR PUMP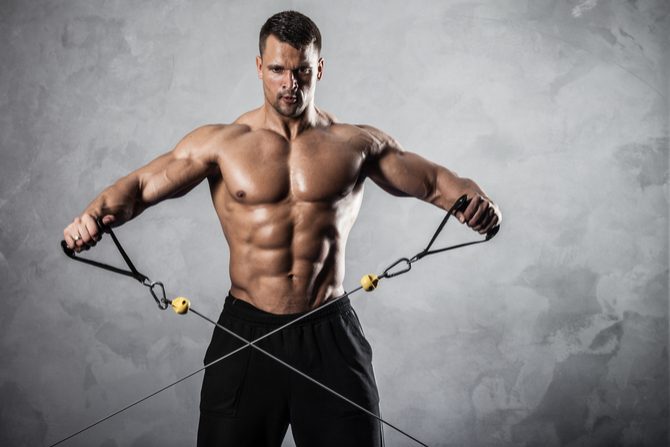 If you're looking to enhance your performance, you need the real supplements that will deliver those results. I dove deep into the world of pre-work out supplements to find out which of them deliver and which of them are nothing but a marketing hype.
When I search for a supplement to enhance my performance, I try to ignore all the hype and buzz surrounding a product. That is because I know all the tricks that marketers use to try and lure people into buying their products. I don't go off the word of commercials or online ads. Instead I look for real people who have experienced optimal results and have seen positive benefits from the direct use of a product. I even tried some of the supplements myself just to make sure they are not fake-reviewed.
There are thousands and thousands of supplements out there in the market. The problem with some of the most hyped up and marketed ones is that they've never been officially reviewed. Therefore, it's not uncommon for companies to create fake paid glowing reviews for their products. It happens all the time and it's something I specifically look for. Then I feel an obligation to warn my readers like YOU to stay away from such supplements and save your health and money.
Whether you want to build muscle or lose fat, I want to make sure that you can get your hands on one of the best supplements out there in the massive internet world.
Key Takeaways
When searching for pre-workout supplements, it's important to look for real reviews from people who have actually tried the product to ensure that it delivers optimal results.
Among the top 10 pre-workout supplements for pumps on the market, Musclepharm Assault Black, Cellucor C4 Original, and Bucked Up are some of the best options to consider.
These supplements contain a mix of ingredients such as Creatine, Taurine, Caffeine, and L-Citrulline Malate that can improve mental focus, increase blood flow, and provide a boost of energy for endurance and focus during a workout.
Some of these supplements may have certain drawbacks such as not having a strong enough pump effect or requiring an increased dosage for better results, but they can still be effective for muscle building and maximizing blood flow during a workout.
It's important to consider the potential side effects of these supplements and to consult with a healthcare professional before starting to take them to ensure their safety and effectiveness for your individual needs.
BEST PRE-WORKOUT SUPPLEMENTS FOR PUMP
Through a lot of muscle work and research, I've found the top 10 pre-work out supplements for pump on the market today. Every single one of these supplements was carefully hand picked after hours of research. So without further ado, here are the 10 best supplements you may want to consider adding to your supplementation regime.
Musclepharm Assault Black
With 3 grams of Creatine, Musclepharm will give you a great start to your work out. Designed by Muscle Pharm, the main strength of this supplement is increased mental focus and improved blood flow for a better overall workout. They could work a little on the flavor, however it's not the worst. After all, it's a supplement to boost your performance and not to taste good.
3g of creatine for strength and performance boost;
1g of taurine for muscle building;
The most common size is 30 servings;
3 flavors, with Fruit Punch being the highest rated one.
PROS
Great for muscle building and for maximizing blood flow during your workout;
Gives you a large bolt of energy for endurance and focus;
Has a great mix of ingredients;
Sold at a great price and in two different sizes;
Very good taste, according to many users.
CONS
Could have a stronger "pump" effect;
Our Review
Overall, Musclepharm Assault Black provides a huge boost of energy and is a great supplement for muscle building. The label on the package is clear with all the ingredients listed in detail, thus informing you of what you are getting. It's a good option to take in the morning on an empty stomach, as it does not get too upset.
I have personally used it for a few months, and although, it was not my favorite, the larger majority of users on the Internet seem to enjoy it more than I did.
With 3g of Creatine, 1g of Taurine, 250mg of Caffeine and 250mg of Acetyl-L-Carnitine, it makes it definitely one of the better mainstream pre-workout supplements on the market today.
Cellucor C4 Original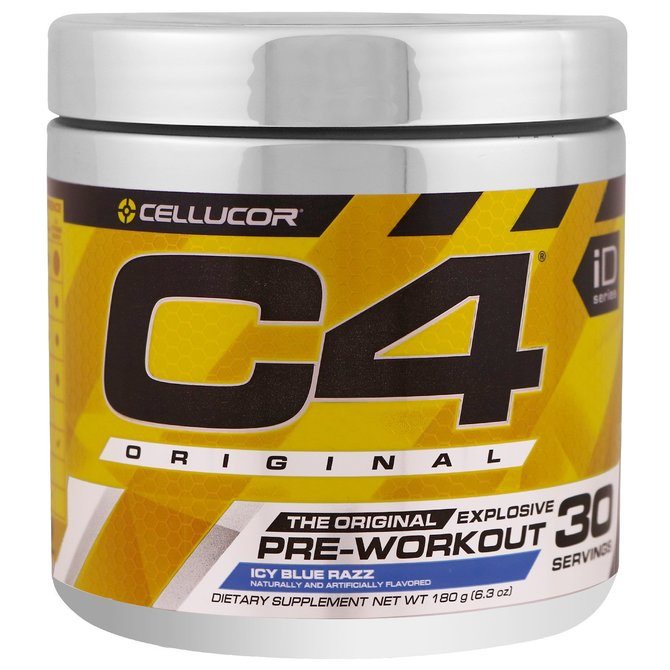 Cellucor is a great product that was even boasted by popular Twitch body building streamers such as Bajheera. Loaded with essential vitamins, minerals and mentally stimulating ingredients, this supplement will surely provide plenty of energy. Both, your mind and body will be ready for a great pump.
Unique combination of energy boosting ingredients;
B complex vitamins (B6/B12);
Great flavors to choose from;
Great for first timers.
PROS
Comes in a popular 60 servings size;
Gives a huge boost of energy with relatively small caffeine intake;
It goes easy on your stomach;
Relatively inexpensive – $0.83 per serving.
CONS
May have to increase the dose for a better pump and alertness;
Our Review
Cellucor C4 Original has been around in the market for a while. Lots of bodybuilders have praised the supplement as one of the best. It may not have the best pump increasing effect, but it will definitely provide you with high-energy boost to help you get through your workout.
Cellucor C4 Original does not have any known side effects. It will even keep your stomach at ease. I have tried it for a month, and have to say that it perhaps should be higher rated than Assault Black due to lower blood rush effect.
Bucked Up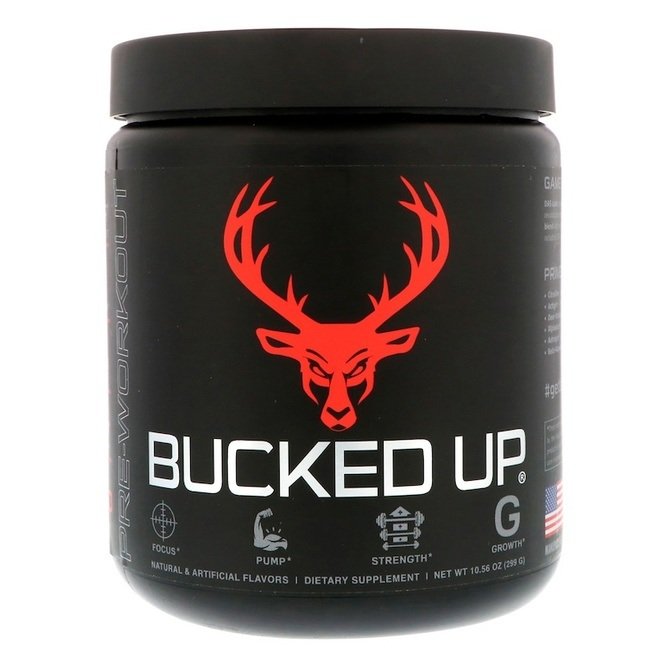 Bucked Up was put on this list, because users report lower than average crash effect. It could be due to the fact that it contains an average amount of caffeine (200mg). Therefore, I included this for people who love their daily coffee and want to avoid massive caffeine intakes.  In terms of the pump, Bucked up is filled with L-Citrulline Malate (6g) for the best results
6,000mg of citrulline malate (clinically dosed);
Includes Himalayan rock salts;
Easily mixed;
Commonly bought in 30 servings.
PROS
Above the average taste;
High level of focus and alertness;
Comes with an increased persistence performance without crashing;
Doesn't have a tolerance fallback.
CONS
It's strongly under dosed with Alpha GPC (strength promoter);
Relatively expensive – $1.40 per serving.
Our Review
Bucked Up is a great all around product that will provide you with a huge energy boost. It will get you off of your feet and moving straight to the weight room. In addition, it doesn't have any real noted side effects from its users. Bucked Up also tastes great and doesn't give you any kind of negative falloff from tolerance build up. Your performance will improve and you'll notice far more consistency without getting tired during your workout. It's also highly reviewed among the community.
However, low caffeine and Alpha GPC doses may push you into taking 1.5 – 2 scoops per serving, making it even more expensive in the long term.
PRE-JYM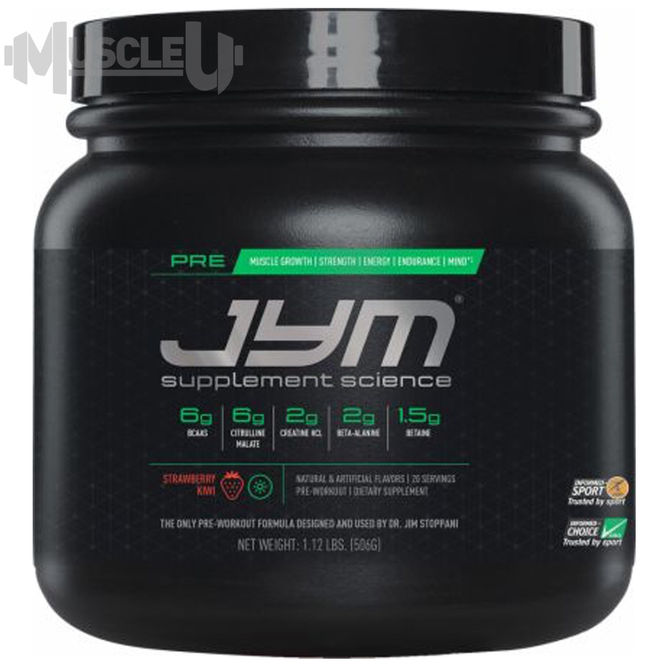 Something we don't see a lot is the ingredient list like black pepper fruit. It is known to help absorb other included ingredients, which allowed the Pre-Jym pre-workout supplement make it to our top-10 list. It includes a massive list of ingredients, which also brings a massive list of benefits.
2g of Creatine;
2g of Beta-Alanine;
6g of Citrulline Malate (for maximum pump);
26 grams of ingredients in a single scoop;
Tastes like black cherry.
PROS
It Is highly reputable among bodybuilders;
Comes with a huge clinical dose of ingredients for every workout;
Your mental focus will improve drastically and immediately;
Taste reminds of skittles with a hint of sour.
CONS
More expensive than majority of its competitors ($1.9 per serving for 20 serving package, and $1.63 for 30 serving package).
Our Review
While there are a few different flavors, most people seem to gravitate towards the cherry one. If you check out their ingredient label on the package, you will see that Pre-Jym is loaded with 26 grams of ingredients. They are all designed to give you a mental and physical energy while getting you very pumped. It's a great value, but some people do feel that it's a bit pricey.  In my opinion, it's 100% worth it, because all of the most important ingredients driving your focus, strength and pump upwards are included in clinical doses.
Major complains are about price and crazy levels of alertness. Some people report they cannot sleep if they take it before they workout in the evening. Therefore, consume with caution.
Pre KAged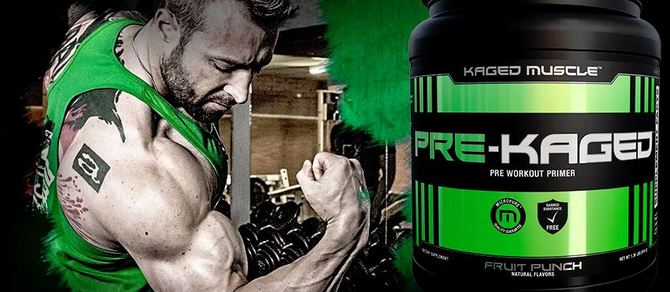 From Kaged Muscle, Pre-Kaged is a bit on the more expensive side, but it's worth every penny from the ingredient standing point alone. For those looking for a high-quality pump, there's 6.5g of I-citrulline included. In addition, Pre Kaged contains a lot of ingredients that we don't see a lot, which made this pre-workout supplement so unique and thus forced us to include it in this list.
Includes l-Valine and l-Soleucine for an additional pump effect;
500mg of coconut water for hydration;
274mg of caffeine;
PROS
A great mix of ingredients with a moderate amount of caffeine included;
Higher than usual L-Citrulline dose for a better pump (6.5g vs 6g);
Great for muscle building as you will get that extra rep;
It's completely dye free.
CONS
The Beta Alanine dosage seems a bit low compared to other supplements;
Slightly light on creatine;
Price is nearly $2 for a serving.
Our Review
Pre Kaged has some of the most packed and highest quality ingredients we've seen in a pre-workout supplement. The pump is absolutely amazing thanks to 6.5 grams of I-citrulline. The ingredient label of this product is massive and we love that it includes coconut water to help keep you hydrated. Overall, it's a great value for money, however, if you are on the budget, it may not be the best solution for you. Also, you may want to add some extra creatine.
N. O. Xplode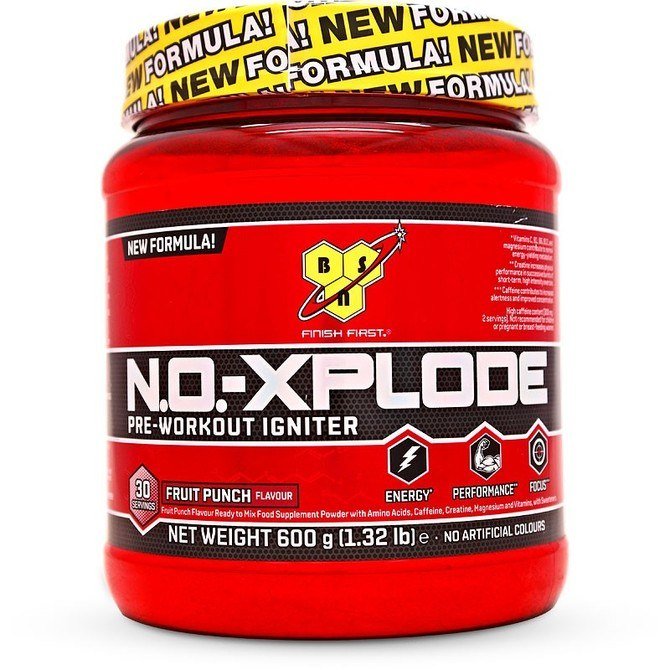 Xplode is a product we've included, because it really gets you on the verge of exploding while working out in the gym. This product has an absolute ton of creatine and energy efficient vitamins to help you get going. It's great for smaller individuals as I've seen in various customer reviews. In addition, it has a great price to quality ratio, making it a good option for people on the budget.
Unique creatine blend of 5.1g;
Plenty of B complex vitamins for energy and mental wellness;
30 or 60 servings per container;
Multiple different tastes with green apple and watermelon being highest rated;
275mg of caffeine.
PROS
Gives a huge boost of energy;
The focus is incredible;
Gives a solid boost to endurance and overall performance;
Good taste with a large variety for everyone;
On a cheaper side ($0.78 per serving with 60 serving package);
CONS
People report a low pump effect;
Some say that it has gotten much weaker.
Our Review
Xplode is great for people who would like to get their daily energy boost and some B complex vitamins into their daily routine. B complex vitamins are essential to your mental functioning and wellbeing. Xplode packs all of those in to increase your energy, focus and endurance. The pump that you'll get from this supplement is on the weaker side. It is believed that Xplode has become a little weaker than it used to be.
I have personally taken Xplode for years. I found it best to be used in explosive and long lasting sports like basketball or soccer, as it keeps you highly alerted and focused. Cannot speak for it in terms of pump and strength boosts.
Engn Shred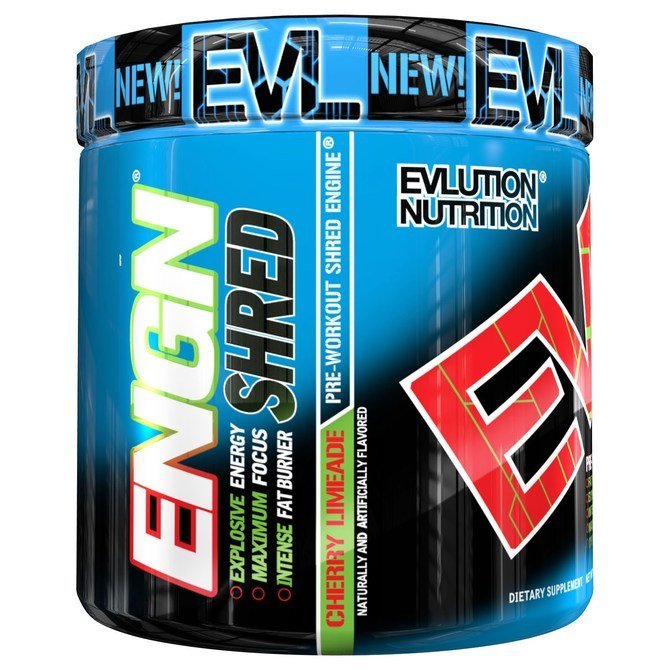 Aside from providing a great energy boost, ENGN Shred brings a lot of other ingredients to help you in the long run as well. Those include Yoshimbe Bark Extract, Capsimax and Coleus Extract to not only improve your immediate workout, but also bring long-term results.
500mg of Conjugated Linoleic Acid Powder (CLA);
L-Carnitine and L-Tartrate (500mg) to promote fat burning rather than just energy boosting;
Yohimbe Bark Extract (40mg) to support weight management;
Supports mental focus and concentration as well as mental activity.
PROS
The energy and focus boosts you'll receive are strong and long lasting;
Encourages fat burn and weight management;
Comes in 6 flavors of your choice;
Very good taste;
High levels of B-vitamins and antioxidants;
Decent price per serving – $0.92
CONS
Lacks of good "pump" effect;
Lack some strength boosting abilities.
Our Review
When you use ENGN Shred, you will sweat more. Loaded with fat burning ingredients, ENGN Shred will activate your fat burning machine long after your workout is finished.  Higher levels of sweat are associated with fat burn, as your body pushes out CO2 and water when fat is used in energy consumption. You'll definitely feel the burn and notice the results from this supplement. While it may not be the best option for heavy lifters looking for maximum pump, however burning few calories of fat has never hurt anyone.
APS Nutrition Mesomorph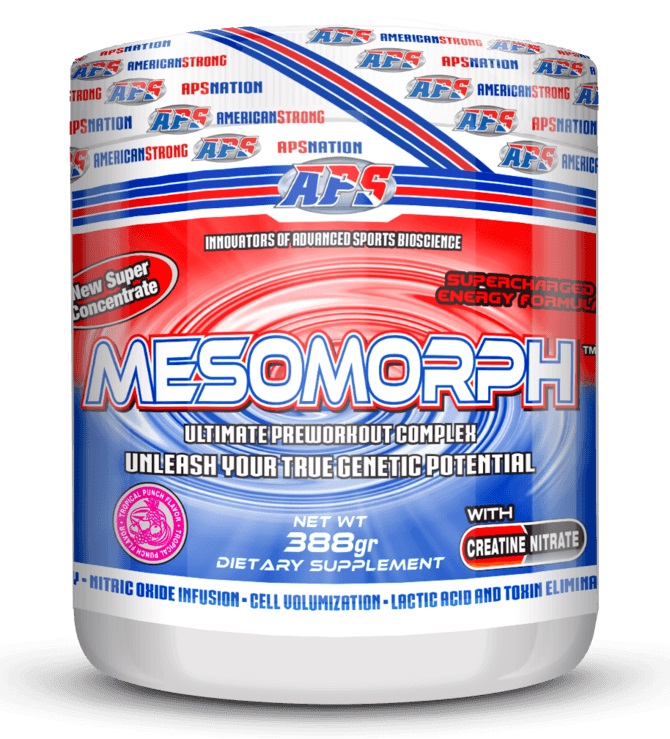 APS Nutrition Mesomorph contains a lot of common ingredients you're used to seeing, like caffeine for example. However, it also contains a unique mixture of what is called the ATP matrix. It is 4.5 grams of unique ingredients to help you build your pump and keep your workout going strong and solid.
Nitrous Oxide is included for a long-lasting pump;
5g per scoop with 25 servings per container;
300mg of caffeine for an instant energy boost;
Contains ATP matrix of 4.5g for maximum instant strength for heavy lifters.
PROS
Highest level of focus;
You don't suffer from any kind of fatigue or crash;
No reported build up tolerance;
Very good pump and endurance increases;
Very tasty.
CONS
Some people report having a really fast and hard heart rate after using the supplement;
Rehydrates you very fast (must increase water intake);
Some people report loss of appetite and nausea.
OUR REVIEW
APS Nutrition Mesomorph isn't exactly for the weak. Sure, your hearth might race a little, but you're going to feel the burn every single time you pick up the iron. You'll be physically and mentally active, attacking the weights aggressively, thus building strength and getting the body of your dreams.
Pumpmode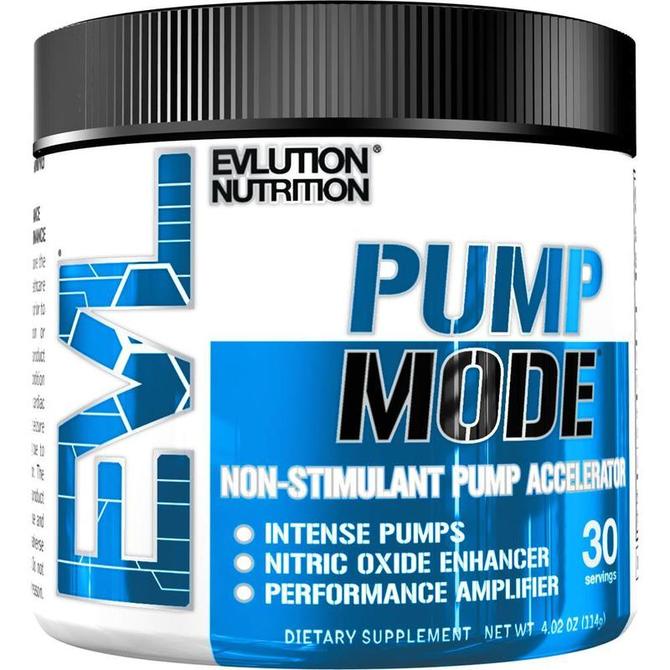 By EVLution Nutrition is PumpMode. The entire purpose of this supplement is to get you pumped. And it surely does an excellent job at it. You'll be pleasantly surprised how your muscle function improves with this supplement.
Has 1.5g of Hydromax which serves as glycerol;
Has a dose of vitamin D at around 500 IU;
Vitamin C is included for immunity health;
1g of Betaine Nitrate.
PROS
The pump effect is great;
Low price – $0.67 per serving;
Many different flavors, of which practically all taste amazing.
CONS
Lacks many other ingredients;
Some people find lack of effectiveness.
Our Review
PumpMode may not be one of the best-known competitor brands in the market, but it's a great long-lasting product that delivers a great pump. If you're looking for something to keep you going for your entire workout, look no further. You do, however, have to have your glycogen stores full for the best pump effect. However, if you want more than just a pump, you might as well choose one of the other products.
Nutrex Outlift Amped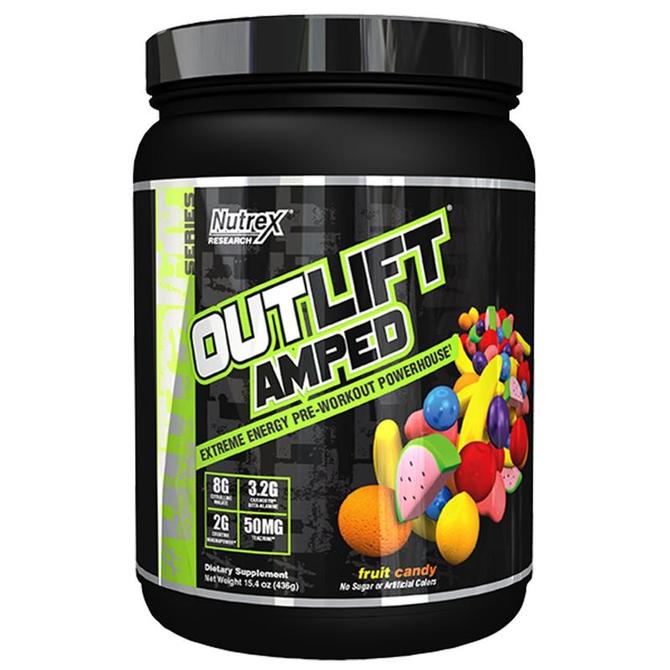 A single scoop of Nutrex Outlift Amped is a whopping 21.3 grams of ingredients. That's pretty damn good for your average workout. It includes everything from Taurine and Betaine to Creatine and more. They will help you enjoy your workout with maximum results.
Has 8g of citrulline malate which is higher than a clinical dose (massive pump effect);
350mg of caffeine;
According to some users, it tastes like jolly ranchers.
PROS
Great clinical doses and proper ingredient serving sizes;
Provides a huge kick of energy and performance boost;
The energy boost from this product far exceeds other products;
The pump is phenomenal;
Tastes great.
CONS
It's not for people on the budget – can get over $2 per serving.
Our Review
Nutrex comes with a lot of crucial ingredients packing in as much as they possibly can. It's great for those who train intensively. However, the problem is the price. Not everyone wants to spend that kind of money. It can be as high as $40 for 20 serving. However, if you are looking for a high quality product at a high price, choose no other.
Other products that were taken into consideration
While the above 10 products are the best on the market, there are some other products which I felt were good picks as well. They're still great supplements, but they're just barely below the quality standards that I am seeking for.
List of products that were taken in to the consideration:
PreSeries BULK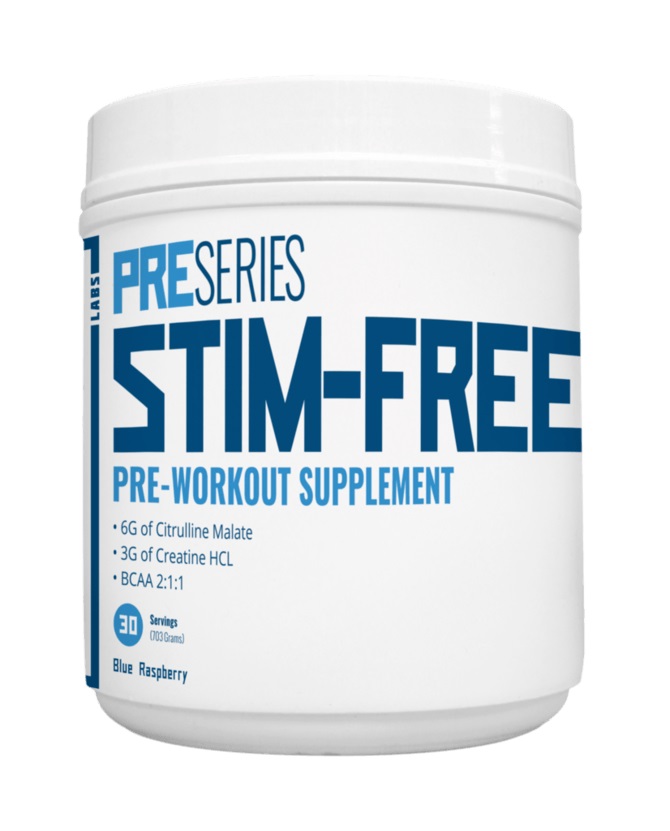 PreSeries Bulk will enhance your endurance and will give you the energy boost you need to get the motivation going. It's a bit expensive and lacks a good taste. Overall, it does provide a great recovery though.
Gaspari SuperPump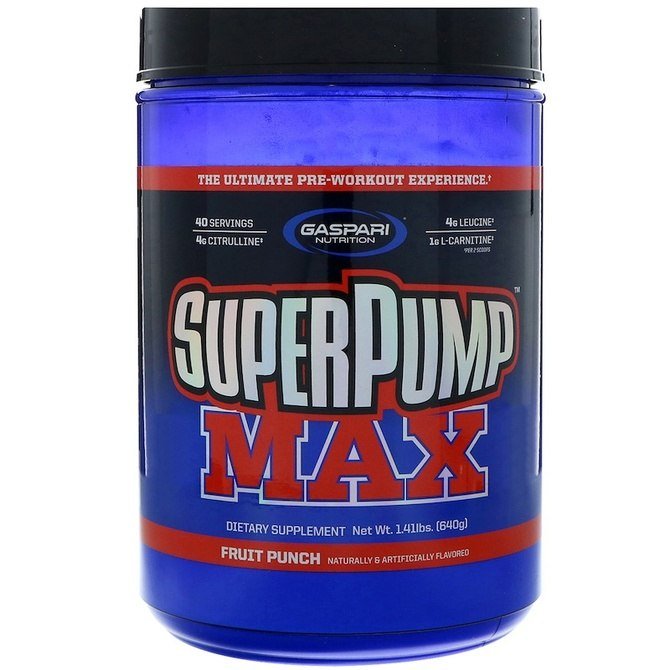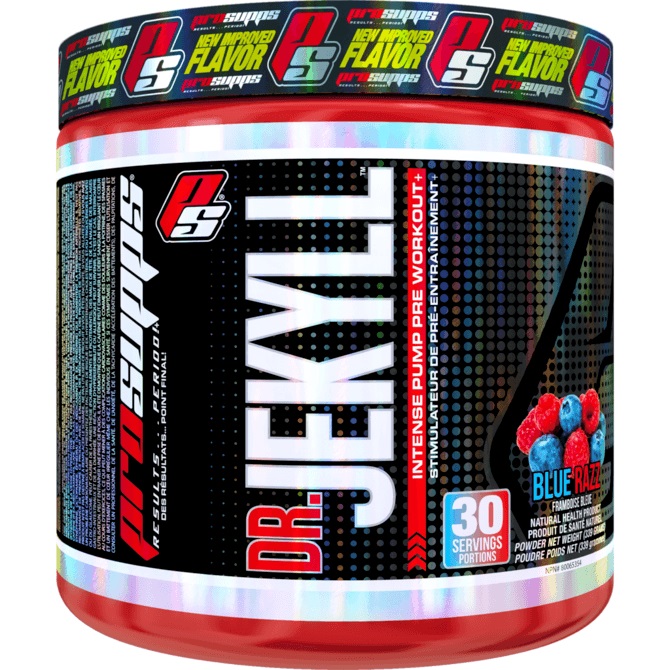 While ProSupps does a great job with their supplements, we couldn't fully recommend Dr. Jekyll, because it leaves a bit of grit behind in the mixing cup. Also, it's not a good mix for stimulant junkies. It's great for your pump though and it gives you a really high boost of energy to help you kick that workout into full gear.
Muscletech Neurocore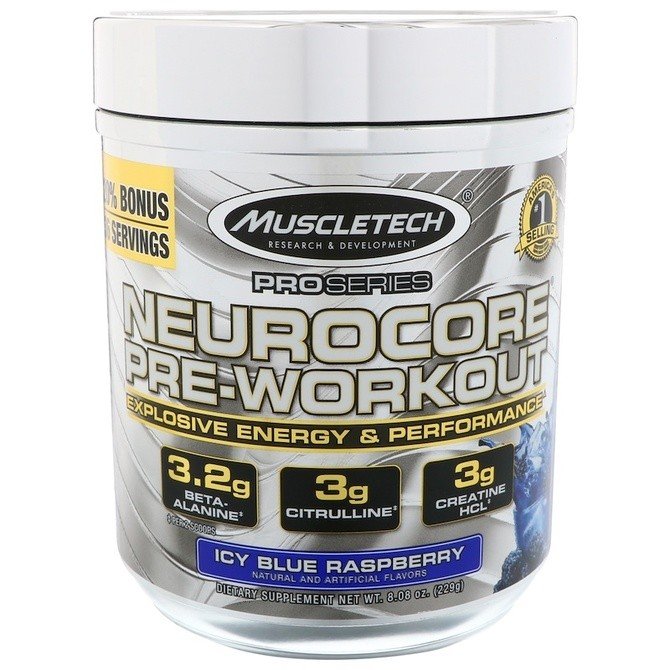 With a unique mixture of ingredients that you don't see in a lot of other supplements, the one area Muscletech Neurocore lacks in is the caffeine. It, however, does a great job at increasing energy levels and avoiding crash effect after a workout. It's a great price-to-quality ratio.
NITRAFLEX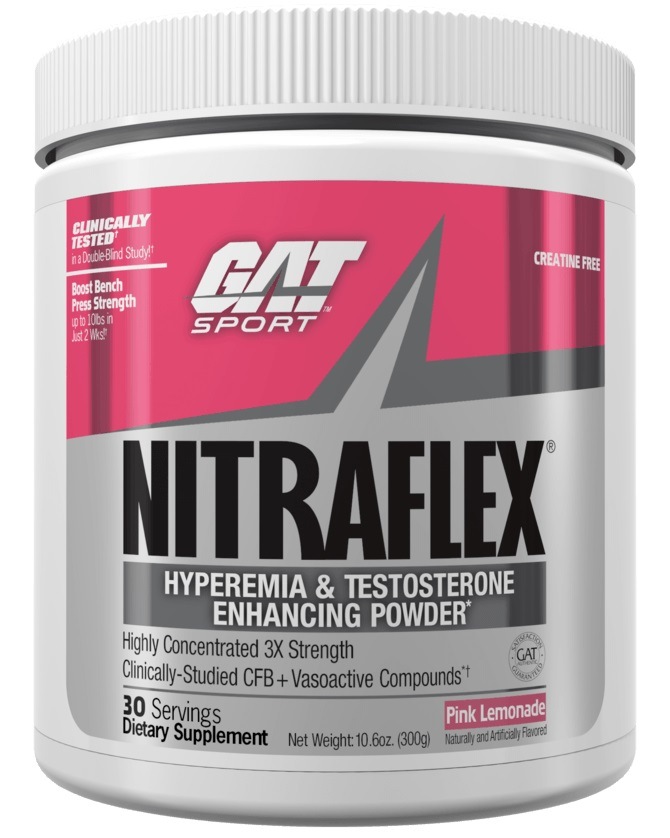 With 1,600mg of beta alanine and 325mg of caffeine, NITRAFLEX from GAT just barely escaped the top 10 list. GAT stands for German American Technologies. NITRAFLEX contains a ridiculous amount of caffeine which comes to 3 and a half cups of coffee. It is, however, cheap and tastes like cherry.
Conclusion
Any of the abovementioned supplements will do a great job increasing your energy levels, focus and endurance. You will have to find the one working best for YOU. You are an individual and your body will react differently to all the ingredients mentioned above. So what works great for one, it will not necessarily work great for you. But in short, I have to say that if you love your daily coffee and want to avoid consuming too much caffeine from pre-workout supplements, than NutrexOutfit Amped or Pre Kaged pre-workouts will be a good choice. But if you don't care all that much about caffeine, than any of the top 10 best pre-workout supplements for pump above will work miracles on your mind and body.
FAQ
Why do people use pre-workout supplements for pumps?
Pre-workout supplements are designed to enhance performance, increase energy levels, and reduce fatigue, which can all contribute to achieving a better pump during exercise.
What are the top 10 pre-workout supplements for pumps?
The top 10 pre-workout supplements for a pump include caffeine, beta-alanine, citrulline malate, nitric oxide boosters, creatine, taurine, BCAAs, tyrosine, arginine, and beetroot powder.
How do these pre-workout supplements work?
Caffeine, beta-alanine, citrulline malate, nitric oxide boosters, creatine, taurine, BCAAs, tyrosine, arginine, and beetroot powder work in different ways to increase energy levels, enhance performance, and reduce fatigue, all of which contribute to a better pump during exercise.
Are pre-workout supplements safe?
Pre-workout supplements can be safe when used correctly and in moderation. However, it is important always to read the labels and follow the recommended dosages. It is also recommended to consult with a healthcare professional before taking any new supplements.
Can pre-workout supplements cause side effects?
Yes, pre-workout supplements can cause side effects such as headaches, jitters, nausea, and insomnia. These side effects are usually the result of taking too much of the supplement or being sensitive to one of the ingredients.
How should pre-workout supplements be taken?
Pre-workout supplements should be taken according to the instructions on the label. They usually take 30 minutes to an hour before exercising and should not be taken on an empty stomach.
Do pre-workout supplements really work?
Pre-workout supplements can effectively enhance performance, increase energy levels, and reduce fatigue, which can all contribute to achieving a better pump during exercise. However, the results may vary depending on the individual and the specific supplement.
Can pre-workout supplements be used for weight loss?
Pre-workout supplements are not specifically designed for weight loss. However, they can increase energy levels and enhance performance, contributing to a more intense and effective workout, potentially leading to weight loss.